Continuing the tradition started by Michael Lucas with the Absolute OpenBSD, 2nd edition auction, I will be auctioning off the first signed copy of the Book of PF, 3rd edition.
Updated - auction is on hold for now - see below
Today I took delivery of two boxes full of my
The Book of PF, 3rd edition
author copies. They are likely the first to arrive in Norway as well (a few North Americans received their copies early last week), but of course this is somewhere in the range hard to impossible to verify.
Anyway, here is the long anticipated
with book
selfie: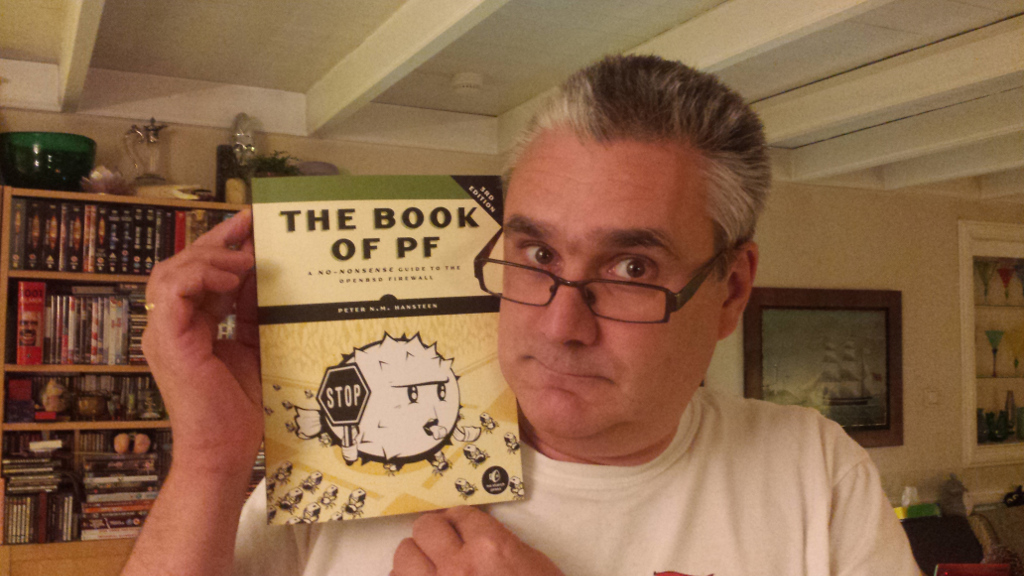 (larger size available
here
)
The writing process and the subsequent editing and proofing steps that you, dear reader, will know to appreciate took significantly longer than I had expected, but this edition of the book has the good luck to become available just before the release of OpenBSD that it targets. My original plan was to be in sync with the
OpenBSD 5.5
release, but to nobody's surprise but mine the process took longer than I had wanted it to.
As regular readers will know already, the main reason this edition exists is that from OpenBSD 5.5 on, we have a new traffic shaping system to replace the more than 15 years old experimental ALTQ code. The book is up to date with
OpenBSD 5.6
(early preorderers have received their disks already, I hear) and while it gives some hints on how to migrate to the new queues and priorities system, it also notes that ALTQ is no longer part of OpenBSD as of version 5.6.
And of course there have been various improvements in OpenBSD since 2010 and version 4.8, which were the year and version referenced in the second edition. You will see updates reflecting at least some of those changes in various parts of the book.
Even if you're not on OpenBSD at all, this edition is an improvement over previous versions, we've taken some care to include information relevant to FreeBSD and NetBSD as well, and where there are significant differences between the systems, it's noted in the text and examples.
It could have been tempting to include specific references to Apple's operating system as well, but I made a decision early on to stay with the free systems. I
have
written something about PF and Apple, but not in the book -- see my
Call for Testing
article
How Apple Treats The Gift Of Open Source: The OpenBSD PF Example
for a few field notes.
But now for the main item. For this edition, for a limited time only, there will be a
Book of PF Auction
You have a chance to own the
first author signed copy
of
The Book of PF, 3rd edition
.
UPDATE 2014-10-25 22:10 CEST: I have been advised by the Foundation that the original idea is not in fact practical. I'm now in the process of setting up an alternative method where I do the collecting, and will be transferring the money as a donation after the auction ends. The struck-out text does not apply, sorry.
If you want to donate please do, but it will not influence your chances of owning the first signed copy.
UPDATE 2014-10-25 23:35 CEST: I am in process of setting up an ebay auction, but apparently managed to trigger one of their alarms for suspicious activity, so the listing is in limbo for now. Hopefully that will be resolved soon, in the meantime I'm grateful for any input on getting this done properly.

But while all this was progressing, I've signed the book, and will fill in the missing spaces once we have the name and amount: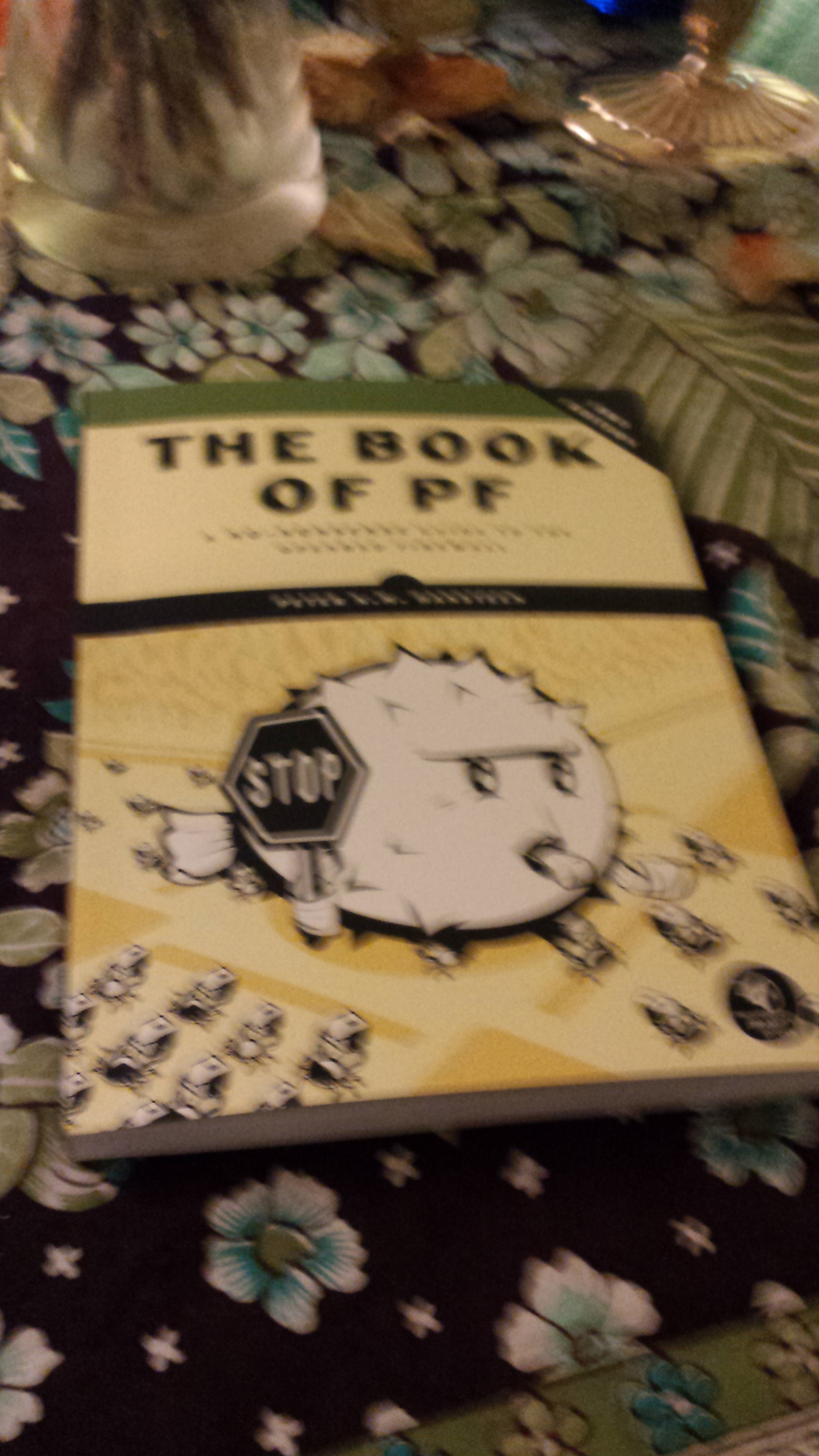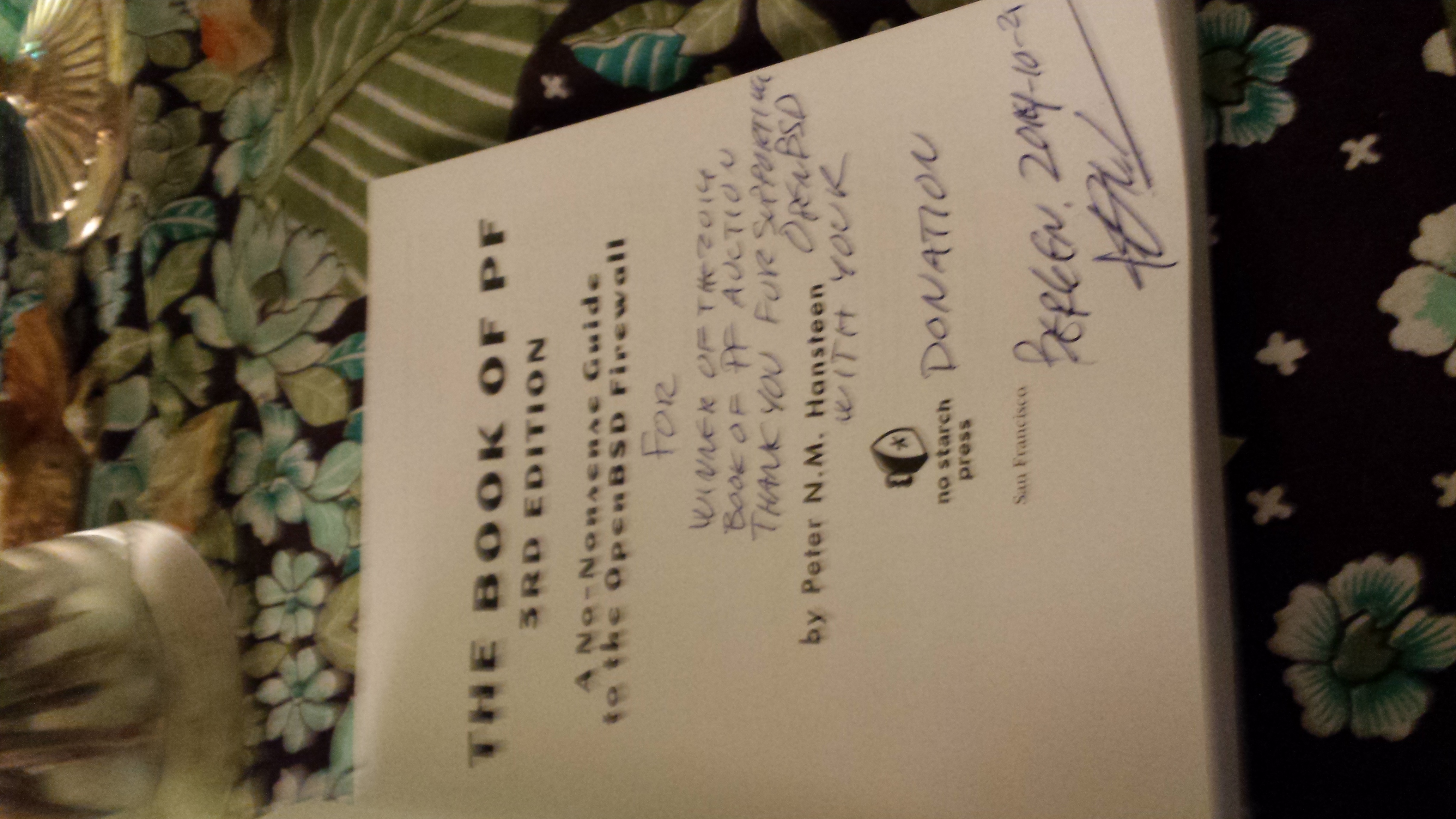 The first signed copy, and incidentally also the first copy my wife picked out of the first box we opened, will come with this inscribed in my handwriting on the title page:
FOR (your name)
Winner of the 2014 Book of PF Auction
Thank you for Supporting OpenBSD with your
(CAD, USD or EUR amount) donation


Bergen, (date), (my signature)
That's just for your reference. My handwriting is not a pretty sight at the best of times, and when you, the lucky winner, receive the book it's entirely reasonable that you will not be able to dechipher the scrawls at all.
If you think your chances of actually winning are not worth considering, please head over to the OpenBSD
donations
or
orders
page and spend some of your (or your boss') hard earned cash!
My speaking schedule has not been set for the upcoming months, but there is a reasonable chance I'll attend at least a few BSD events in the near future. See you there!